Bike Lock Parts and Accessories
Bike Lock Parts and Accessories
Kryptonite's Transit FlexFrame U-Bracket makes it easy to carry your U-lock on your bike so it's always handy. This simple mount fits on frame tubes from 25 to 80mm in diameter and it accepts most 13 and 16mm-diameter round-shackle U-locks. Plus, the clamp rotates so you can perfectly align the lock with your bike to keep it tucked out of the way.
Made of heavy-duty hook-and-loop material, the Pump and U-Lock Tie also has a neoprene pad stitched next to the rectangular plastic common loop. Put the neoprene pad between your pump and frame, double-back the hook strip onto the loop, and you can rest assured that no matter how hard you ride, your pump will stay put. In addition to attaching pumps, the Pump Tie is also excellent for securing U-locks, fishing poles, and other delicate items that require a secure bond and a load-damping pad. - Dimensions: 1.5 x 10 inches - Weight: .5 ounces/14 grams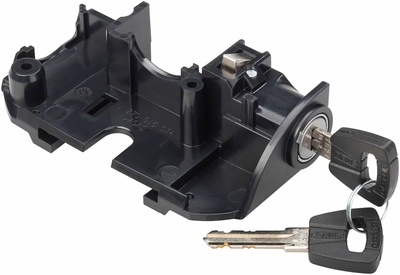 Secure your eBike battery to your bike using quality Abus lock cores.